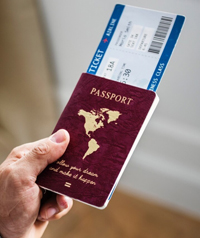 Fill in the required information in the fields below according to your passport details, as these details will be used for both the hotel and the Kilimanjaro climb.
Please note:
For groups, each participant must send in this booking form. If you have any questions about this, please feel free to contact me. Give your "group" its unique name that all participants can use.
The Kilimanjaro Expedition is only suitable for participants aged 14 and above.
You should definitely not hike to high altitude against doctor's advice if you are pregnant or have severe breathing problems. A consultation with your GP is recommended.
People who have had laser treatment to their eyes may see their vision change above 4500 metres. An ascent is therefore also not recommended within 12 months of treatment.
Fill in the form below: