Climbing Mount Kilimanjaro in Tanzania is truly an unforgettable experience. Mount Kilimanjaro majestically rises up from the rainforest of north-eastern Tanzania to its pristine, snow- and ice-covered summit at 5,895 meters (19,340 ft).
Climbing this inactive volcano – the highest mountain in Africa and the 4th highest freestanding mountain on earth, was once thought to be reserved for rugged and elite "Expert" climbers with months of preparation under their belts.
But with Ramon Stoppelenburg's Expedition Kilimanjaro, even you can conquer this "Sleeping Giant!"
For the ultimate Expedition Kilimanjaro I have composed an 11-day adventure which consists of 7 days camping on the mountain (6 nights) and 4 days in a comfy local hotel in Arusha (two days before and two days after the climb).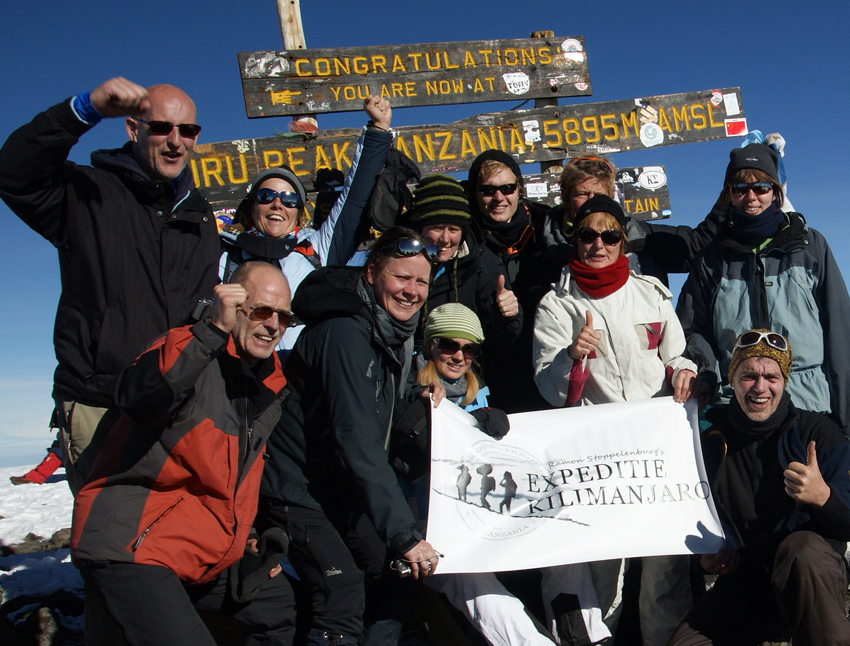 Over the course of 7 days and 6 nights, the Expedition Kilimanjaro will lead you along the Machame route to the highest point of the mountain, Uhuru Peak (5,896 m / 19,343 ft.) Read more about the route »
One expedition consists of a maximum of 12 people led by certified native Tanzanian guides and porters with years of mountain climbing experience. While these amazing mountain guides direct your group through the scenic ascent of the highest mountain in Africa, porters will assume the physical demand of carrying your personal items and all camping gear throughout the seven-day journey.
Small groups and solo hikers may opt for a more individual Expedition Kilimanjaro with their own personal guide, departing on the date of their choice.

This price remains the same whether you participate in one of the international Expedition Kilimanjaro groups leaving throughout the year (see the Agenda below) or arrange your own small group or solo guided trek.
This excludes flights to Tanzania but includes transfers to and from Kilimanjaro International Airport, four nights' accommodation at a fine hotel in Arusha, including breakfast (2 nights before and 2 nights after the climb), a full mountain team (guide, cook, assistants, porters), all necessary camping equipment (ie. sleeping tent, dining tent, tables, chairs, eating utensils, etc.), Flying Doctors rescue fee, all meals during the climb, clean drinking water on the mountain, camping fees, Kilimanjaro National Park permit and all government taxes.
---
Find the best flights
There are many ways to arrange your personal travel to and from Arusha, Tanzania, the starting point of Expedition Kilimanjaro. Return flights can be booked from London or Amsterdam to Dar Es Salaam or directly to Kilimanjaro International Airport for around 1,000 EUR.
For the adventurous participant wishing to save money, fly only to the Kenyan capital city of Nairobi, where an air-conditioned shuttle bus service is available for the half-day journey from Nairobi to Arusha for only US$70 (round trip).
In addition, Turkish Airlines is also recommended by former participants. TA flies daily from the huge and brand new transfer hub in Istanbul straight to Kilimanjaro International Airport (JRO) and can sometimes give a return price of around €260 (June expedition). More about flying »
---
An Expedition group consists of a maximum of 12 people. In case of more than 12 participants on one date, the group may possibly be split into two groups.
You can decide when you want your expedition to take place. You can go alone or with your own group or join one of the expedition groups leaving this season:
Agenda Expedition Kilimanjaro groups 2023
Tanzania is currently open to tourists from around the world who are fully vaccinated. These are the regular tropical vaccinations.
NOV 21 – DEC 1
November expedition

*


2 participants booked
DEC 25 – JAN 4
December New Year's expedition
Agenda Expedition Kilimanjaro groups 2024
JAN 19 – JAN 29
January expedition

*


2 participants reserved
FEB 18 – FEB 29
February expedition

*


1 participant reserved
MAR 19 – MAR 29
March expedition

*



MAY 17 – MAY 27
May expedition

*

JUN 16 – JUN 26
June expedition

*


3 participants reserved
JUL 15 – JUL 25
July expedition

*



AUG 13 – AUG 23
August expedition

*



SEP 12 – SEP 22
September expedition

*



DEC 25 – JAN 4
December
New Years expedition
* = full moon climb
Remember, you are also free to pick your own date. The price remains the same!
---
Add a Safari to your Expedition!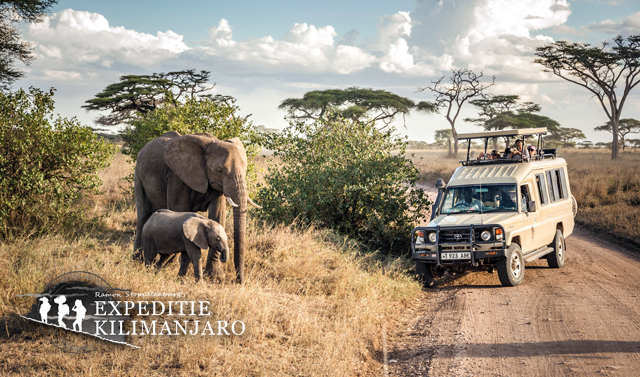 It is even possible to add an exceptional Safari to your Expedition Kilimanjaro! For this, choose from a day trip or 2 to even 6-day stays in Tanzania's National Parks. Check here for all Safari options! »