On this page, I cover the following topics about what exactly you can expect during the Kilimanjaro Expedition in Tanzania: The hotel // The expedition // Safety // Walking pace // To the summit // Temperature // Meals // Porters // Camping // Photography // Telephony and internet // Afterwards // Literature //
---
The comfy hotel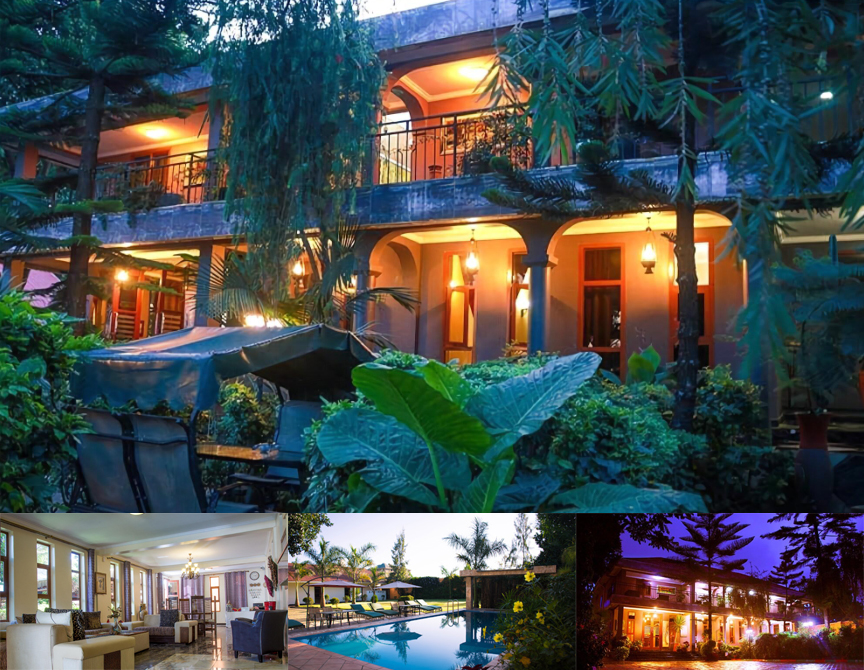 The first and last two nights of Expedition Kilimanjaro you will stay in an attractive and lush green hotel in the cozy town of Arusha. You can specify in your reservation whether you desire a single, double or triple room. The hotel has a bar, a restaurant, a swimming pool and a massage parlor (very nice after the climb), safety deposit boxes for valuables and a laundry service. The daily breakfast offers continental, English breakfast and vegetarian options.
The Expedition
You climb Kilimanjaro in 7 days and 6 nights via the Machame Route. You will 'climb' up via this route and, after reaching the summit, descend again via the Mweki Route. During this route, you will enjoy the views every day, from tropical rainforests to endless-looking lunar landscapes above 4000 metres/13,000 feet.
Each expedition is accompanied by one or two qualified mountain guides. They are extremely well-trained to assess your well-being. For example, if you don't feel well during the climb, always inform your guide. Usually, he has long since noticed and will try to help and support you.
Sometimes you just need a motivational push or minor medical assistance (blisters). The mountain guides are entirely responsible for your health and well-being and will therefore do everything they can to help you.
On the first day of climbing, everyone gathers at Machame Gate, the entrance to Kilimanjaro National Park and the start of the Machame route. Here, the mountain guides select the porters on the spot to carry all the gear and the luggage for the porters is weighed, and you have to register yourself.
Safety
The minimum age for participation in Expedition Kilimanjaro is 14 years. You absolutely must not climb against doctor's advice, if you are pregnant or if you have serious breathing problems. If above 3,500 metres/11,482 feet you suffer from colds, coughs, raised body temperature or get a nosebleed, you will be advised by the mountain guide whether to continue or descend to avoid multiple severe altitude sickness symptoms.
Daily drinking water is arranged by the porters. The first day this will come from the bottle, but on the mountain you will drink pre-cooked and filtered drinking water, straight from natural mountain creeks. You should drink at least three litres of water per day. The porters will arrange breakfast, a hearty lunch and a nutritious evening meal (several courses). For energetic snacks during the day, you need to provide your own.
Communication to the base station at the bottom of the mountain and to park rangers is via mobile phones.
All guides carry a first aid kit.
Every evening your guide will measure your heart rate and the percentage of oxygen in your blood with a pulse oximeter. This is a small, medical instrument used to determine the amount of oxygen in the blood and your heart rate. This is measured via a clip on a finger. This is used to carefully check whether you are fit enough to continue travelling the next day.
Every evening, the mountain guide will brief you on the course of the next day.
Walking pace
You will notice that the walking pace is extremely slow right from the start. There is no rush. You will also quickly notice that the slow pace is ideal: you don't get out of breath and you don't have to rest often. Meanwhile, you can enjoy the flora and fauna around you. Another advantage of the slow pace is that your body can adapt well to the altitude.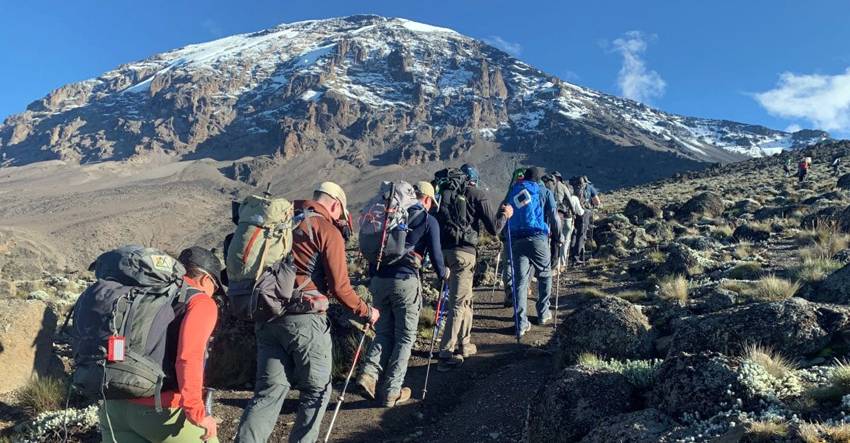 The climb to the summit of Kilimanjaro
On the 7th day, after a day's walking, you will already have dinner at the end of the afternoon with the request to go to sleep quickly afterwards and prepare yourself for the night. Because around midnight, the climb to the summit will begin. After a light snack and plenty of drinks, the headlamps will be switched on, you will be wrapped up warm and walk – very slowly – to the top of the volcano in the dead of night.
This is the most exciting day of the climb, because this is what it all comes down to. How far will you make it, will you keep warm enough, will you get enough oxygen, will you take it easy? Always follow the mountain guide's advice and with enough stamina, you might just reach Stella Point (5685m/18,651ft) around sunrise. With the sun slowly warming your body, you will hike along the crater rim towards the ultimate summit: Uhuru Peak (5895m/19,340ft) and you will have reached Africa's highest point!
The temperature
During the day, it can easily reach 30 degrees Celsius/86°F on the mountain, and you can practically walk in a t-shirt at 3,000 metres/9,842 feet. Wind can sometimes be detrimental and then the temperature also drops a lot right away. You will notice a huge drop in temperature once the sun sets and night begins. At night it can be quite freezing (so warm sleeping gear is necessary) to even -12C/10F. In the morning, it soon becomes more pleasant and the jumper comes off as soon as the sun starts shining nicely again.
Unfortunately, no sun guarantee can be given. Depending on the seasons, it can even rain or snow. Always be prepared for this with the right clothing. The guide can very well give you clothing advice for the day ahead.
Meals
You almost won't believe it, but during the climb you really won't lack anything in terms of food. The chef can still create excellent mountain menus under the most difficult conditions.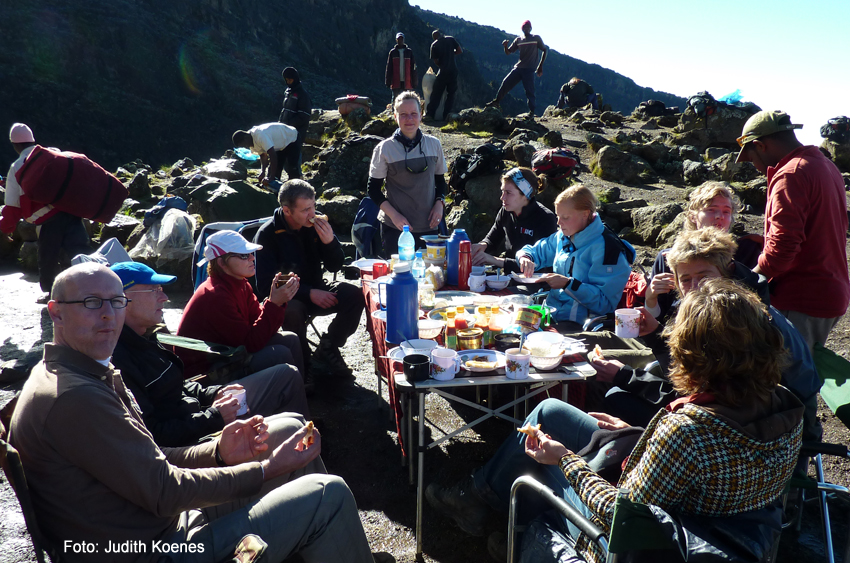 Breakfast includes oatmeal (fibres!), toasted bread with a variety of toppings, omelette, fried bacon and a bowl of fresh fruit. For drinks, you can choose from tea, coffee, hot chocolate or filtered water.
Lunch starts each day with soup and a fresh vegetable salads. After that, expect pancakes, sandwiches or cakes with various fruit drinks. Should circumstances prevent a 'lunch tent' from being set up along the way, you will receive a packed lunch.
In between, the chef also prepares home-baked peanuts and salty popcorn and you can choose from chocolate and biscuits.
Dinner is one of the most important meals in a day. After a long walk, your body needs to be well nourished for recovery and preparation for the next day. Dinner may include fish, potatoes, french fries, pancakes, rice, pasta with various vegetables, the Tanzanian banana stew Ndizi, meat with rice (Nyama na wali) followed by a rich desert (fresh fruit, fried banana with chocolate sauce and Tanzanian pancakes with honey and yoghurt.
Every day you will be amazed at what is put on the table. So don't compare this special experience of climbing and camping to camping anywhere else.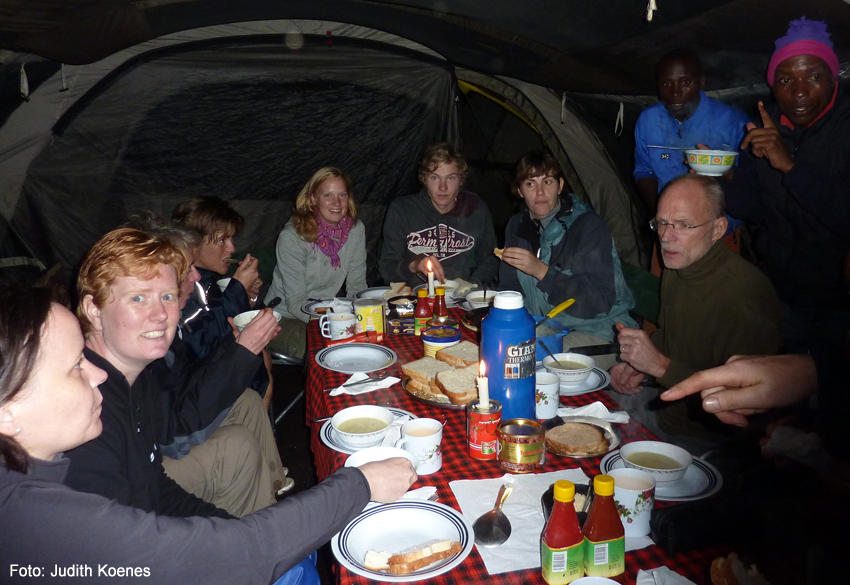 However, if you have any special dietary requirements of your own, please let us know with your booking. The chef will of course adapt the cooking to your requirements.
The porters carry your luggage
A porter is officially allowed to carry only 15 kilos (34 lbs.) of your luggage. So make sure your travel luggage (clothes, sleeping bag, mat and all other necessities) does not exceed these 15 kilos.
Your 'daypack' should be kept as light as possible. If you already have three litres of water in it, there is already a nice weight. Fill the rest of your backpack with only those things you will need on the hike, such as energy snacks (Sultana, Liga, Mars, Snickers, etc.), sunscreen, a scarf and a light warm jumper. You already wear sunglasses and headgear while walking.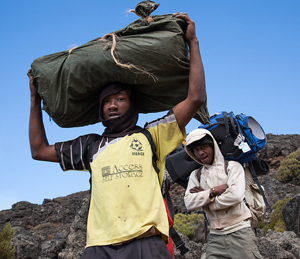 Besides your luggage, a porter also carries all the necessities for the mountain: food and drinks, the tents, the kitchen and their own stuff. In the morning, they will pack everything and will catch up with you along the way. Once you arrive back at the next camp in the late afternoon, you will find that everything is ready for you by now. Your luggage bag is already at your tent and hot chocholate milk is waiting for you.
Camping
You will stay daily in two-person dome tents on camp sites where you will also meet many other climbers. Should you wish to have your own dome tent for yourself, please mention this when booking. Depending on availability, this is usually free or there is a small charge.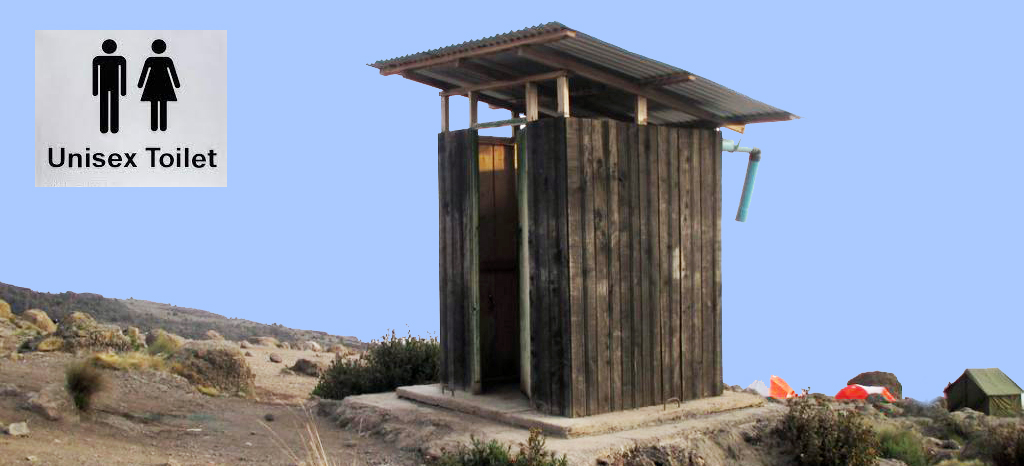 The toilets on the mountain consist of lockable cubicles with a hole in the floor and this will take some getting used to for everyone for the first few days. A bowl of hot water is also prepared every morning so you can wash up.
If you make waste, you have to collect it and hand it to the porters every morning. The waste will either be burnt or carried along until the end of the expedition (plastic).
Photography
If you use a digital camera, always take plenty of full batteries with you during the climb. The cold causes them to run down faster than normal. Also store batteries in a place where they are not directly exposed to this cold. During my own expedition, I kept all batteries and accumulators in my warm sleeping bag at night and experienced no problems.

Telephones and internet
In most locations on the mountain, you will find that there is a mobile network available that you can use to make calls. Use your mobile phone moderately as you will probably be calling from a Dutch number and the costs can be quite high. Also, you won't be able to charge your phone during the climb.
After the expedition
Everyone who has reached Stella Point or Uhuru Peak at the end of the expedition will receive an official certificate from your mountain guide at the hotel. You can then relax at the hotel, or order a massage for those tired legs and back muscles.
It is customary in Tanzania to tip. Think at least 10% to 13% of the total price. This applies both to all services provided to someone. So consider the mountain guide who took care of you for 7 days, the chef and all porters. If the expedition costs you $1999 total, count on $199 to $250 in tips for your entire mountain team (per participant).
If you have clothes left over after the climb that you will no longer use yourself and want to use them to lighten your luggage, give your old clothes, shoes or other supplies to your guide. Your guide knows exactly which members of his team will be intensely happy with shoes, winter clothing and other accessories.
Literature
Kilimanjaro requires good fitness, good planning and sufficient acclimatisation for the high altitude. The book Kilimanjaro, A Trekking Guide to Africa's Highest Mountain by Henry Stedman helps you with planning; fitness and acclimatisation are things you need to take care of yourself.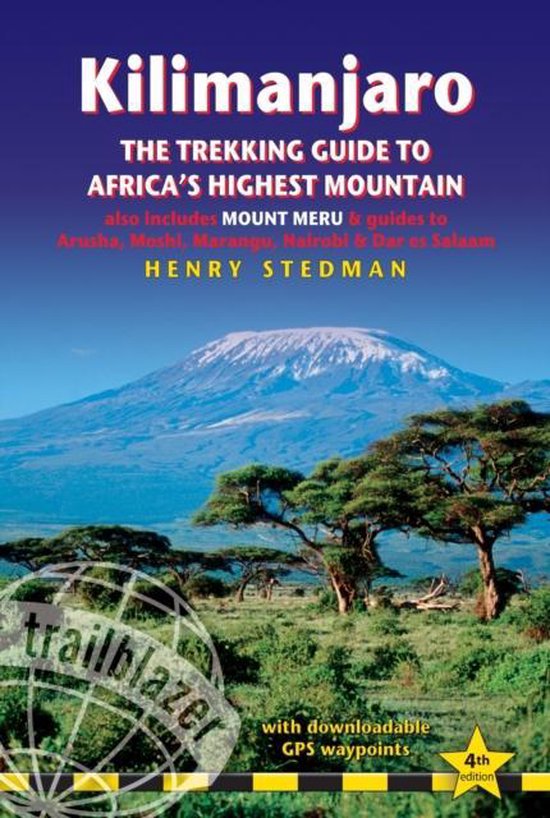 The fact that this book helps you with planning is no empty phrase. Really all facets of the mountain and its surroundings are covered. The author provides information on what to expect there and how to then reach the summit with lots of practical background information. About Arusha, about the nature (flora and fauna) of the region and the mountain itself, and what to consider when climbing the mountain.
You can order this book online from Amazon.com for very low prices!