Choose your own date for your Expedition Kilimanjaro
If you are travelling alone or with your own party, you can choose your own date for the 11-day Kilimanjaro Expedition.
You can also choose to join an expedition group in a certain month. Then you will be in one group with other Dutch people (or on some dates with international travellers). See the Agenda on the front page.
---
What is the best time to climb Kilimanjaro?
January – March has decent, warmer weather with occasional rain. Prices for flight tickets are cheap.
April – early May is the rainy season, no expeditions are possible then.
June – August everything is green, but it is the cold season and it is much less crowded.
September – early November offers the best weather, is also the busiest season on the mountain.
December it is dry but warmer, chance of snow during the summit climb.
---
Price of the Kilimanjaro Expedition
Ramon Stoppelenburg's Expedition Kilimanjaro is an 11-day adventure in Tanzania. It consists of 7 days on the mountain (6 nights) and 4 nights in a cosy *** hotel in Arusha (two days before and two days after the climb).
An expedition group consists of a maximum of 12 people and is led by qualified English-speaking guides with years of experience on the mountain.
The price for the Kilimanjaro Expedition
is US$ 1999 per person
This includes:
Tanzanian VAT of 18% introduced as of 1 July 2016
Transfers to/from Kilimanjaro International Airport or to/from the shuttle bus stop in Arusha from Dar Es Salaam or Nairobi
Four nights in a charming hotel with bed & breakfast (2 nights before and 2 nights after the climb in single, double or triple rooms) in the town of Arusha
Transfers to/from the entrance of Kilimanjaro National Park
Full mountain team (guide, cook, assistants, porters)
Three meals per day during the climb
Water (bottled on the first expedition day, boiled and filtered on the mountain)
Camping fees for the Machame Route
Permit to visit Kilimanjaro National Park
Flying Doctors Rescue insurance surcharge
All government taxes
The price does not include:
The return flights to Tanzania
Domestic flights or transfers (e.g. from Dar es Salaam etc)
International travel visas
Required vaccinations and their costs
Personal travel insurance (with coverage for mountain sports)
Alcohol, drinks, personal expenses in Arusha.
Sleeping bags and trekking poles (though these can be rented at the hotel for a few dollars a day)
Laundry (available at the hotel)
Tips for the mountain team (max 13% of the expedition price)
Lunch and dinner in Arusha.
---
You want to book an Expedition Kilimanjaro?
Please use the reservation form to book your expedition. This allows me to check if there is availability in the hotel on your desired arrival date and if a climb is possible.
Please also check out my varied options for a Safari following your Kilimanjaro Expedition. When you are there anyway….
If a Kilimanjaro Expedition can take place on your desired date, check carefully whether your flight can also be booked on that date. Keep in mind a duration of 11 days (arrival on day 1, departure on day 11).
So:
After completing and sending the booking form, you will receive a booking confirmation within 48 hours (on working days). The booking confirmation is also the invoice. This means that your hotel accommodation and the climb are then officially reserved. This also allows you to book and determine your flight(s) immediately.
A Kilimanjaro Expedition is not fully booked until full payment has been made. After payment you will receive the vouchers for the hotel and the climb in your mailbox.
---
Tipping
In Tanzania, it is customary for every participant to make a contribution towards tipping the mountain team. The guides, assistants, cook and porters are loyal workers and a tip serves as recognition for their good hard work.
Tips are collected at the end of Expedition Kilimanjaro and handed over to the head guide during the closing ceremony. Consider a minimum of 10% to a maximum of 13% of the expedition price.
---
Take out comprehensive travel insurance
You should make sure you have adequate travel and medical insurance to cover all your activities including climbing Kilimanjaro and possible emergency assistance and repatriation back home.
You can calculate a premium, get a quote or buy a decent insurance policy on the internet.
---
Visa requirements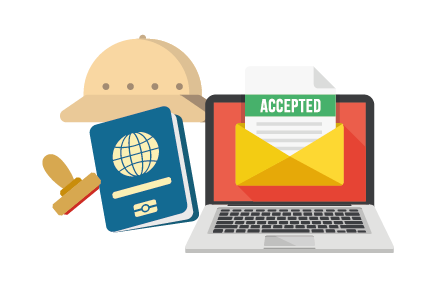 Please note, if you are travelling to Tanzania you will need to have a valid passport and a visa for this country.
You can obtain a visa on arrival at Dar es Salaam or Kilimanjaro International Airport, and at the Tanzania/Kenya border and it costs 50 US dollars (payable in cash). (Note: US passport holders pay $100 here).
You can also apply online for an eVisa or you can arrange it in advance at a Tanzanian consulate or embassy in your own country
Once you have applied for your visa, you may travel in the country for 90 days. The visa takes effect the moment you enter the country.